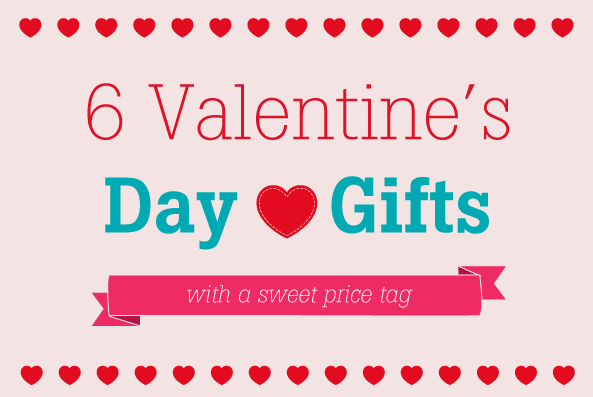 Valentine's Day is a booming retail holiday when it comes to gift-giving. Forget a token of love on this holiday full of hearts and flowers and you could end up spending the night in the doghouse. Not to fear, however—we have some fantastic suggestions for thoughtful gifts that will impress your loved ones with your dedication… without breaking the bank.

Don't just send flowers. Grow a garden.
If you're dating a green thumb, go above and beyond the typical cellophane-wrapped bouquet this year and get her something she'll really love. Save $25 on your order of $50 or more from Dutch Gardens for a high-class selection of tulip bulbs in every shade of the rainbow. Love blooms for longer than a day, after all.

Even more practical, some deep savings on gardening tools from Sears will have you and your loved one humming a happy tune on February 14th.

Of course, if you do want to go the traditional long-stemmed roses route, a 25% rebate from 1-800-FLOWERS is just the ticket. Romance and savings, all in one.
Nothing says, "I love you" like a dual phone plan.
What with those schmoopy texting sessions and hour-long phone calls, a couple's phone bill can really skyrocket. Get around these penalties with a pair of phones from Verizon, who sweeten the pot with many opportunities to score a free phone. Be a shrewd shopper and shop the deals at AT&T and Boost Mobile, too, to find the best plan for you and your hubby.

If an amazing FreeFone deal still hasn't tempted you, try picking up something simple, like one of these snazzy personalized phone cases. Then he's sure to think of you whenever he gets a call.

Keep happy memories close with a canvas print.
A gorgeous, museum-quality canvas print is a fantastic way to honor your love while adding some decorative flair to the home. Canvas Lifestyle is currently running a white-hot deal on prints and guarantees shipping in time for V-Day. Wedding photos, family photos, or even a landscape photo from a favorite vacation—all of it spells L-O-V-E a lot better than a box of candy hearts can.

Other ideas? Create a collage of frames with different snaps or splash out for a glossy photo book from York Photo at a very budget-friendly 50% discount.

Give heart-shaped boxes for a dazzling Valentine's Day.
If you decide to go the pendant, earring, or bracelet route on Valentine's Day, be sure to search Coupon Chief for "jewelry." You'll turn up everything from special discounts at jewelry.com to 50% savings on luxe Swarovski designs.

For a quirkier twist on this V-Day favorite, give bohemian-chic Amy O. Jewelry a try. Wow her even more with your own ode, tucked into a locket. Then, help her to store her trinkets beautifully with a charming mini-chest from JewelryBoxes.com.

Indulge in sweets for the sweet.
Although the rows of identical red candy boxes at the grocery store might be tempting as a quick fix, resist and go for the savings from Ghirardelli or Godiva instead. What's not to love about tasty and thrifty?

Pour out a glass of premium bubbly from WineBasket.com and savor the other artfully-treats tucked in the basket. Combine with artisanal cheeses, crackers, and you've got a sophisticated spread that'll be sure to cue the violins and cherubs.

Don't forget to tuck in a sappy, humorous, or heartfelt card from Cards Direct while you're at it!
Take flight for the best Valentine's Day ever.
You've done the flowers. You've done the jewelry. You've done the chocolates. This year, go above and beyond for your significant other with a surprise Valentine's getaway!

Book by 2/14 using Cheapoair's promotion and jet off to a destination that's sunny, carefree, and ripe for romance. Knock $150 off your booking of a flight and hotel at CheapTickets.com, or save on a tony deluxe suite for two at the Venetian. The options are limitless with discounted European hotel rooms at Hotwire or huge markdowns on beach and ski vacations at Expedia.

Our advice? Shop around for a dream vacation and cement a whole new year of treasured memories—plenty to last you until next Valentine's Day.

And, if you're still on the hunt for the absolute perfect gift, look no further than our Coupon Concierge tool. We help you search by the unique tastes of your loved ones while ensuring you reap the rewards of deep savings.